ZEMLJIŠTE I BILJKA – SOIL AND PLANT
ISSN 2560-4279 (Online)
ISSN 0514-6658 (Print)
UDK 631
Published since 1952
Zemljiste i Biljka – Soil and Plant, Vol. 63, 2014
No. 1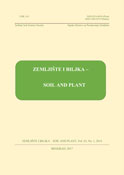 INFLUENCE OF HYDROTHERMAL CONDITIONS ON THE PRODUCTIVITY OF WINTER WHEAT VARIETIES IN DRY-STEPPE ZONE OF THE URAL PIEDMONT
Suhanberdina Laura and Suhanberdina-Shishulina Diana 
ECOLOGICAL CONDITION OF VEGETATION COMMUNITIES IN THE WEST KAZAKHSTAN
Baitlesova Laura and Kenessarina Kunsaya
MOLDBOARD SMOOTH PLOUGHING FOR CONSERVATION OF SOIL FERTILITY IN ARID REGIONS
Becket Nuralin, Askar Bakushev, Askar Khamsin and Shynar Iskakova
THE INFLUENCE OF GEOMETRICAL AND PHYSICAL PARAMETERS OF CUTOFF LAYER ON TRACTION RESISTANCE
Becket Nuralin, Askar Bakushev and Ernazar Dzhanaliyev
No. 2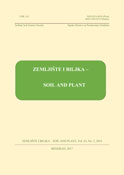 SOIL RESPIRATION AND MAIN SOIL CHARACTERISTICS ON DIFFERENT TYPES OF SOILS IN WEST SERBIASaljnikov Elmira, Cakmak Dragan, Nikola Kokovic, Olivera Stajkovic-Srbinovic, Vesna Mrvic, Veljko Perovic, Biljana Sikiric
BIOLOGICAL INDICES OF SOIL ORGANIC MATTER IN LONG TERM FERTILIZATION EXPERIMENT
Elmira Saljnikov, Dragan Cakmak, Ainur Muhanbet, Mirjana Kresovic
INFLUENCE OF TRANSBOUNDARY WATER COURSES TO THE URAL RIVER ECOSYSTEM CONDITION
Baitlesova Laura and Kenessarina Kunsaya
INFLUENCE OF INCREASING DOSES OF NITROGEN FERTILIZERS ON THE YIELD AND QUALITY OF WINTER WHEAT GRAIN IN THE SOUTHEAST KAZAKHSTAN
Raiymbekova Aigul, Saljnikov Elmira, Sara Ramazanova, Ganima Bekmambetova
Zemljiste i Biljka – Soil and Plant, Vol. 64, 2015
No. 1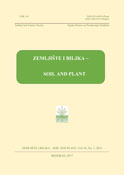 STEPPE VEGETATION COVER OF FALLOW LAND OF URAL PIEDMONT
Saljnikov Elmira, Sukhanberdina Laura, Alzhanova Bagdagul, Rahimgalieva Saule 
The effect of the application of complex and mixed fertilizers on wheat yield and soil fertility
Nikola Koković, Mirjana Kresović, Vesna Mrvić, Biljana Sikirić, Darko Jaramaz, Elmira Saljnikov
TECHNOLOGY OF CHICKPEA CULTIVATION IN DRY-STEPPE AREA
Suhanberdina Laura, Hon G, Rahimgalieva Saule, Suhanberdina-Shishulina Diana, Denizbaev B.
PRODUCTION OF CERTIFIED CONTAINER SEEDLINGS OF VEGETABLES IN BOSNIA AND HERZEGOVINA
Omer Kurtović and Josip Ćota
No. 2
ALFALFA GROWTH ON ACID SOIL AS INFLUENCED BY CALCIFICATION AND ENSIFER STRAINS INOCULATION
Olivera Stajković-Srbinović, Dušica Delić, Nataša Rasulić, Aneta Buntić, Djordje Kuzmanović, Ljiljana Kostić-Kravljanac, Biljana Sikirić
INFLUENCE OF SPRAY DRYING TECHNIQUE ON SURVIVAL OF BRADYRHIZOBIUM ONTO SODIUM ALGINATE BASED CARRIERS
Aneta V. Buntić, Olivera S. Stajković-Srbinović, Nataša V. Rasulić, Djordje Ž. Kuzmanović, Dušica I. Delić, Suzana I. Dimitrijević-Branković
EFFECT OF FALLOWING ON SOIL ORGANIC MATTER CHARACTERISTICS ON WHEAT MONOCULTURE IN ARID STEPPES OF NORTHERN KAZAKHSTAN
Elmira Saljnikov, Saule Rahimgalieva, Aigul Raymbek, Sonja Tosic, Vesna Mrvic, Biljana Sikiric, Konstantin Pachikin
IMPACT OF DIFFERENT REDOX CONDITIONS ON THALLIUM (IM)MOBILIZATION IN SOIL (SERBIA)
Svetlana Antić-Mladenović, Mirjana Kresović, Jörg Rinklebe, Tina Frohne, Hans-Joachim Stärk, Vlado Ličina
Zemljiste i Biljka – Soil and Plant, Vol. 65, 2016
No. 1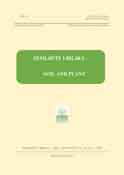 WATER-PHYSICAL PROPERTIES OF CHERNOZEM SOILS UNDER NO-TILL AND MINIMUM TILL TECHNOLOGIES OF WHEAT CULTIVATION
Dzalankuzov T., Savkina E., Demeuov S., Akhmanova A. 
UTICAJ KONVENCIONALNE I REDUKOVANE OBRADE ZEMLJIŠTA NA SADRŽAJ UKUPNE I LAKOPRISTUPAČNE ORGANSKE MATERIJE
Srđan Šeremešić, Vladimir Ćirić, Goran Jaćimović, Dragiša Milošev, Milivoje Belić, Bojan Vojnov, Milorad Živanov
BIOCHEMICAL COMPOSITION OF FRUITS OF PRUNUS DOMESTICA
Грушин А, Сиднин АС., Суханбердина Э.Х.
UTICAJ PRIMENE BIOUGLJA U KONTROLISANIM USLOVIMA NA HEMIJSKA SVOJSTVA ZEMLJIŠTA
Milorad Živanov, Srđan Šeremešić, Jovica Vasin, Stanko Milić, Jordana Ninkov, Snežana Jakšić, Bojan Vojnov
No. 2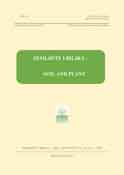 WRB KLASIFIKACIONI SISTEM I ODNOS SA KLASIFIKACIJOM ZEMLJIŠTA SRBIJE
MRVIĆ V., SALJNIKOV E., JARAMAZ D. 
PRODUCTIVITY AND QUALITY OF GRAIN OF WINTER TRITIALE IN WEST KAZAKHSTAN REGION
Sukhanberdina L. K., Sukhanberdina-Shishulina D.K., Sayfullina А. Bushanskaya N.
SOURCE MATERIAL FOR BREEDING OF PRODUCTIVE AND DESEASE RESISTANT VARIETY OF CUCAMBER
Sukhanberdina E.
EFFECT OF NO-TILL AND MINIMUM TILL TECHNOLOGIES OF CULTIVATION ON THE COMPOSITION AND AMOUNT OF SOIL NEMATODES
Dzhalankuzov T.D., Savkina E.
Zemljiste i Biljka – Soil and Plant, Vol. 66, 2017
No. 1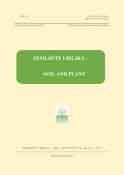 POTENTIAL FERTILITY AND WATER REGIME OF DEPOSIT DARK CHESTNUT SOILS IN WESTERN KAZAKHSTAN
Gumarova Zh.M., Bulekova A.A. 
FIELD STUDY OF ECOLOGICAL STATE OF STEPPE ASSOSIATIONS IN WEST KAZAKHSTAN REGION
Tikhomirova E.I., Kenesarina K.Kh.
SOIL SALINITY AS A BASELINE IN EVALUATION OF LAND SUITABILITY FOR IRRIGATION
Nešić L., Belić M., Pejić B., Mačkić K., Ćirić V.
COMBINED RIPPER FOR LAYER-BY-LAYER SOIL CULTIVATION WITH SUBSURFACE APPLICATION OF MULCH
Nuralin B., Kukhta V., Bakushev A., Kubasheva Zh.
No. 2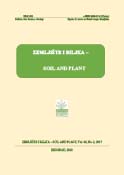 BIOACCUMULATION OF Pb AND Cd IN SOILS OF MEADOW ASSOCIATIONS AGROSTIETUM CAPILLARIS (Z. PAVLOVIĆ 1955) ON ZLATAR AND STARA PLANINA
Belanović Simić S., Čakmak D., Beloica J., Obratov-Petković D., Kadović R., Miljković P., Lukić S., Marković Dj. 
MICROBIOLOGICAL AND BASIC AGROCHEMICAL PROPERTIES OF THE SOIL NEAR THE IRON MILL IN THE CITY OF SMEDEREVO
Rasulić N., Delić D., Čakmak D., Stajković-Srbinović O., Kuzmanović Dj., Buntić A., Sikirić B.
CHEMICAL SOIL CHARACTERISTIC ACCORDING TO DIFFERENT AMOUNT OF NPK FERTILIZERS
Visković J., Crnobarac J., Latković D., Jaćimović G.
NITROGEN ACCUMULATION IN CHICKPEA ORGANS BY ISOTOPE INDICATION AND INFLUENCE OF MINERAL FERTILIZERS AND BIOPREPARATES ON ITS PRODUCTIVITY IN URAL REGION OF KAZAKHSTAN
Tlepov A., Dzhaparov R., Akhmetov E.
Zemljiste i Biljka – Soil and Plant, Vol. 67, 2018
No. 1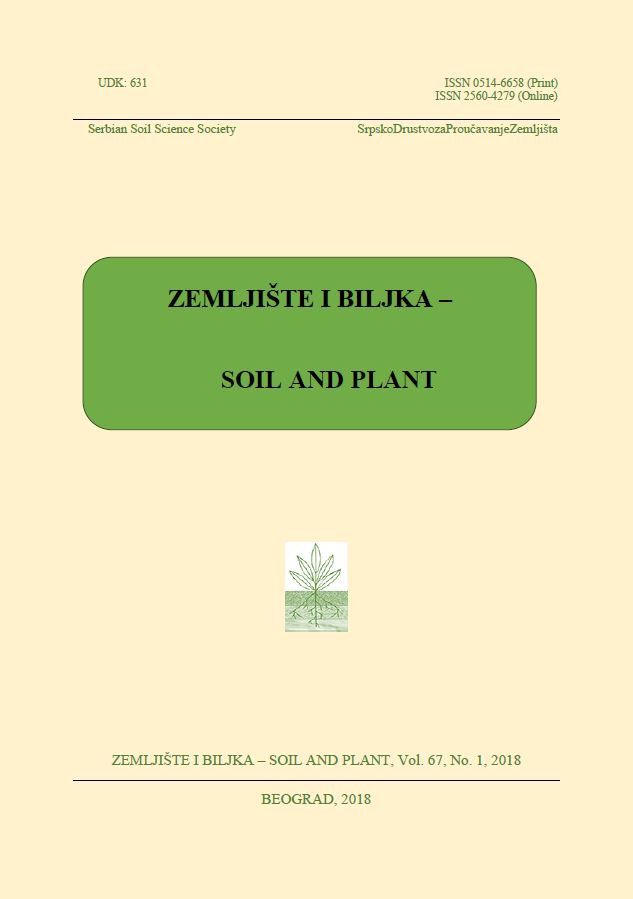 OPTIMIZATION OF PHYTOSANITARY STATE OF SUNFLOWER SOWINGS
Turganbayev T., Sadykov B. pp. 1-15
IMPROVEMENT THE CANE MEADOW BY SEEDING PERENNIAL FODDER CROPS IN THE АRAL SEA REGION
Bayzhanova B., Akhanov S., Nurgaliyev N., Nurzhan D. pp. 16-23
EFFECT OF DIFFERENT TYPE OF IRRIGATION ON YIELD OF ONION AND IRRIGATION WATER USE EFFICIENCY
Valtner I., Mačkić K., Bezdan A., Belić M., Vlajić S., Pejic B. pp. 24-35
AGROCHEMICAL CHARACTERISTICS OF SOILS ON PRIIJEPOLJE MUNICIPALITY
Sikirić B., Saljnikov E., Stajković-Srbinović O., Jaramaz D., Čakmak D., Mrvić V. pp. 36-45
EFFECT OF DIFFERENT ANTHROPOGENIC IMPACTS ON pH AND HUMUS COMPOSITION OF SODDY-PODZOLIC SOIL
Pavlova O., Litvinovich A., Lavrishchev A., Saljnikov E pp. 46-63
NITROGEN AND PHOSPHORUS LEACHING FROM THE HYDROMORPHIC SOILS OF BIDJ-BOSUT FIELD IN CROATIA
Petošić D., Kovačević V., Mustać I. pp.64-77
PROTECTION OF SOIL RESOURCES IN THE AREA OF BANAT ESTABLISHMENT OF SHETERBELTS
Pekeč S., Katanić M. pp. 78-87
INFLUENCE OF SOIL PARTICLE SIZE ON CONTENT AND AVAILABILITY OF TRACE ELEMENTS IN SOILS UNDER VINEYARDS
Ninkov J., Milić S., Banjac B., Vasin J., Jakšić S., Marinković J., Živanov M. pp.88-100
No. 2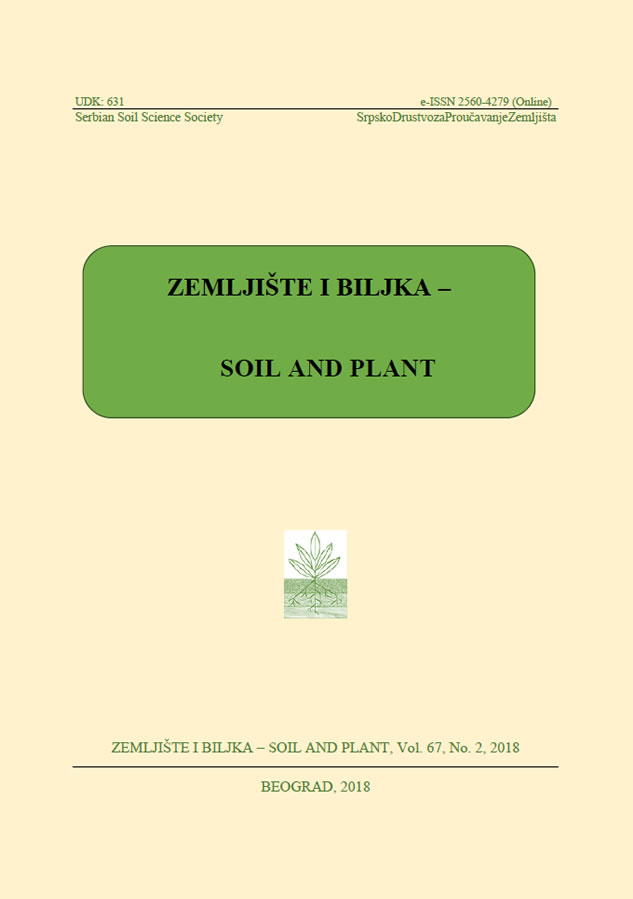 HEMIJSKE OSOBINE ZEMLJIŠTA POSLE 50 GODIŠNJEG ĐUBRENJA ZEMLJIŠTA MINERALNIM ĐUBRIVIMA
Koković N., Saljnikov E., Dinić Z., Sikirić B., Mrvić V., Neranđić B. pp. 1-9
KARAKTERISTIKE PEDOGENETSKIH PROCESA PRI INTENZIVNIM AGROTEHNIČKIM MJERAMA U PROCESU REKULTIVACIJE
Malić N., Matko Stamenković U. pp. 10-29
TECHNOLOGY OF CULTIVATION FOR IMPROVEMENT REED MEADOW IN THE ARAL REGION
Baizhanova B., Akhanov S., Nurgaliev N., Nurzhan D., Zhapparbekov N. pp. 30-37
ABUNDANCE OF POTASSIUM AND PHOSPHORUS IN AGRICULTURAL SOIL OF THE MUNICIPALITIES AND THE TOWN OF NIS
Grčak M., Grčak D., Gudžić S., Nikolić K., Aksić M., Babović–Đorđević M., Grčak D. pp. 38-47
FERTILITY STATE OF FALLOW SOILS OF DRY STEPPE ZONE
Rakhimgalieva S., Sukhanberdina L., Yesbulatova A., Alzhanova B. pp. 48-56
POSSIBILITY OF USE of Pester peat for production of PEPPER seedlings
Mrvić V., Sikirić B., Mladenović M., Koković N., Stajjković-Srbinović O., Tošić S. pp. 57-69
Zemljiste i Biljka – Soil and Plant, Vol. 68, 2019
No. 1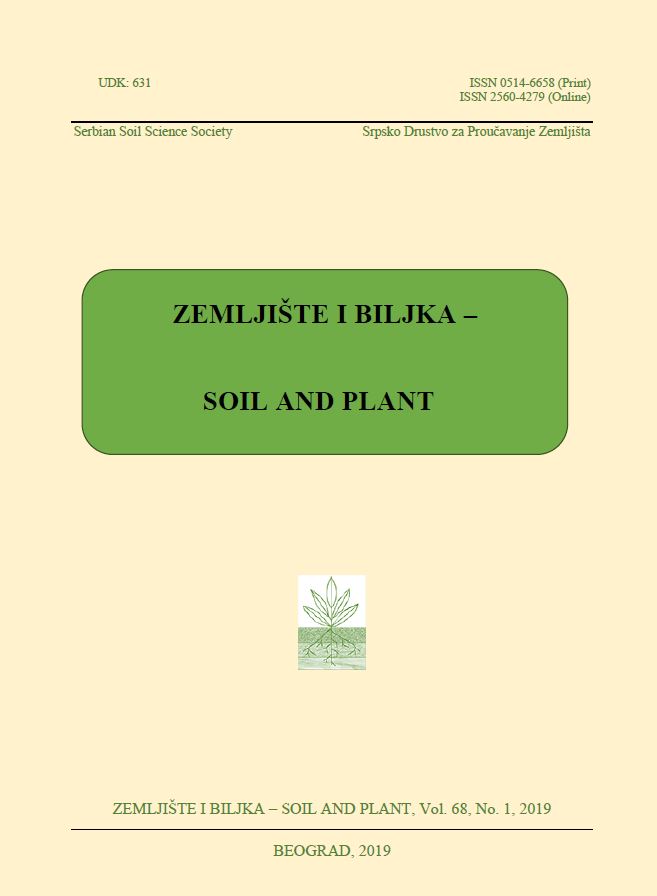 Eluvial losses of Ca from Umbric Albeluvisols Abruptic produced by different doses of lime: column experiment
Pavlova O., Litvinovich A., Lavrishchev A., Bure V, Saljnikov E. pp. 1-12, doi:10.5937/ZemBilj1901001P
Composition of organo-mineral complexes migrating in soddy-podzolic soil (Umbric Albeluvisols Abruptic)
Pavlova O., Litvinovich A., Lavrishchev A., Belimov A., Saljnikov E. pp. 13-23, doi:10.5937/ZemBilj1901013P
Leaching requirements for salt-affected soils of West Nubian valley of Nile River (North Sudan)
Žeželj B., Dimovski P. pp. 24-35, doi:10.5937/ZemBilj1901024Q
Proposal for desalinization of higly saline soils of Vojvodina
Žeželj B., Hojka Z., Dimovski P. pp. 36-44, doi:10.5937/ZemBilj1901036Q
Monitoring of desalinization procedures of "slatinas" of Banat and Bačka
Žeželj B., Hojka Z., Dimovski P. pp. 45-60, doi:10.5937/ZemBilj1901045Q
Suitability of soil for growing soft broadleaf trees
Pekeč S., Katanić M. pp. 61-70, doi:10.5937/ZemBilj1901061S
Examination of soils under grasslands in the territory of Kosjeric municipality
Anđelković S., Babić S., Vasić T., Milenković J., Marković J., Prijović M., Lazarević Đ. pp. 71-78, doi:10.5937/ZemBilj1901071A
No. 2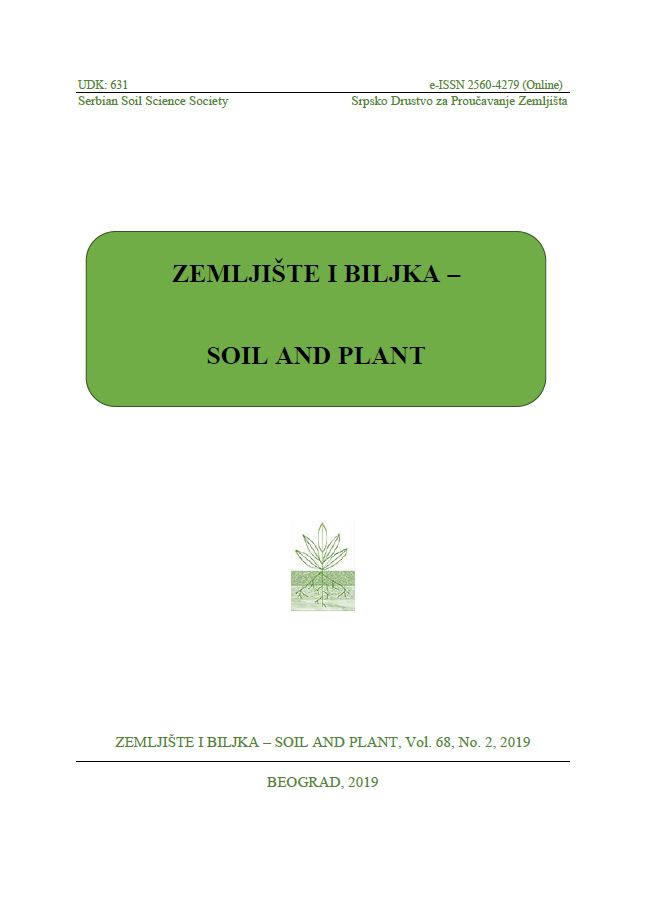 The effect of bacterial isolates from rhizosphere soils on wheat and barley seed germination
Buntić A.V., Stajković-Srbinović O.S., Knežević M.M., Rasulić N.I., Kuzmanović Đ.Ž., Dimitrijević-Branković S., Delić D.I. pp.1-11, doi: 10.5937/ZemBilj1902001B
Effect of nitrogen fertilizer on growth of seeded grassland dry biomass in process of deposol: Biological reclamation
Malić N., Stamenković Una M. pp.12-23, doi:10.5937/ZemBilj1902012M
Properties of the Fluvisol Soil in the Middle Danube Basin
Pekec S., Katanic M. pp.24-32, doi:10.5937/ZemBilj1902024P
The Importance of Harvest Residues in Corn Production
Latković D., Crnobarac D., Jaćimović G., Visković J., Dunđerski D. pp.33-43, doi:10.5937/ZemBilj1902033L
Improved Soil Testing System in the Czech Republic (New Valuation of Micronutrients Content in Soil and Phosphorus Content in Carbonate Soils)
Čermák P., Mühlbachová G., Lošák T. pp.44-50, doi:10.5937/ZemBilj1902044C
The Land Use and Soil Protection: Planning and Legal Regulations in Serbia
Bezbradica L., Pantić M., Gajić A. pp.51-71, doi:10.5937/ZemBilj1902051B
Uticaj jarih useva gajenih naкon ozimih međuuseva na stanje sabijenosti zemljišta
Vojnov B., Šeremešić S., Ćupina B., Crnobarac J., Кrstić Đ., Vujić S., Živanov M. pp.72-80, doi:10.5937/ZemBilj1902072V
Zemljiste i Biljka – Soil and Plant, Vol. 69, 2020
No. 1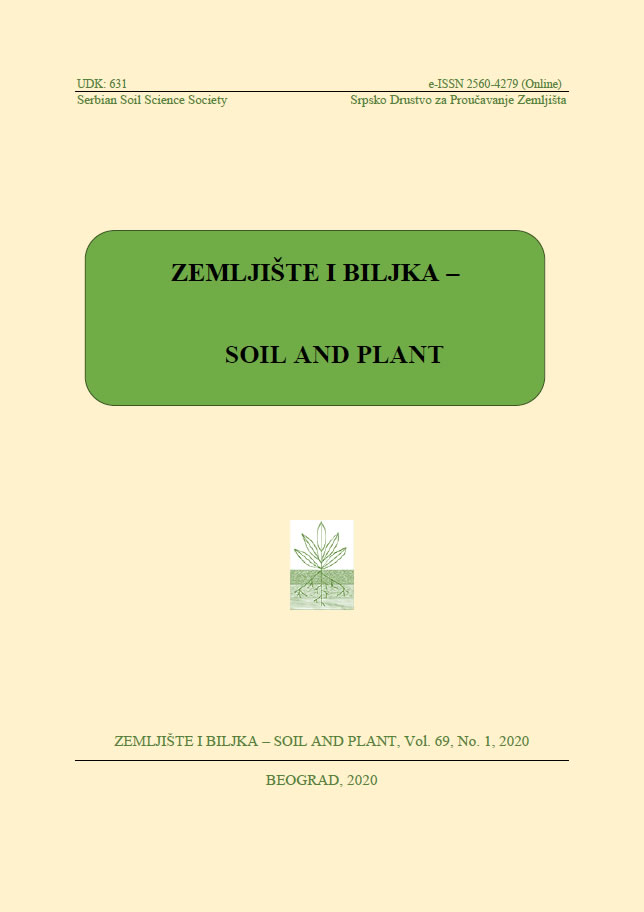 Advantages of enriched pešter peat used for a cultivation of pepper seedling
Biljana Sikirić, Vesna Mrvić, Milan Zdravković, Marina Jovković, pp.1-11, doi:10.5937/ZemBilj2001001S
Testing soil quality level parameters in villages in the Vranje city
Markovic Jelena, Stojiljkovic Jasmina, pp.12-20, doi:10.5937/ZemBilj2001012M
Some physical properties of long-term irrigated fluvisols of valley the river Beli Drim in Klina (Serbia)
Boško Gajić, Branka Kresović, Borivoj Pejić, Angelina Tapanarova, Goran Dugalić, Ljubomir Životić, Zorica Sredojević, Miodrag Tolimir, pp.21-35, doi:10.5937/ZemBilj2001021G
Socio-economic evaluation of the reclaimed dry bottom during the development of the Kazakhstan part of the Aral Sea
Daldabaуeva Gulmira, Nurymova Raushan, Baizhanova Bibigul, Akhanov Serik, pp.36-45, DOI:10.5937/ZemBilj2001036D
Impact of the varying intensity light on some morpho-anatomical characteristics and physiological parameters in young plants of Pisum sativum L.
Tanja Maksimović, Nina Janjić, Biljana Lubarda, pp.46-55, doi:10.5937/ZemBilj2001046M
Hydrological properties of the humogley soil of ​​Čelarevo and Kovilj marsh
Saša Pekeč, Marina Milović, Velisav Karaklić, pp.56-64, doi:10.5937/ZemBilj2001056P
Influence of barley seeding rate and fertilizer dose on the yield of melilot in the sub-cover sowing of rice crop rotation
Raushan Nurymova, Laura Tokhetova, Bibigul Baizhanova, Gulmira Daldabaуeva, pp.65-73, doi: 10.5937/ZemBilj2001065N
No. 2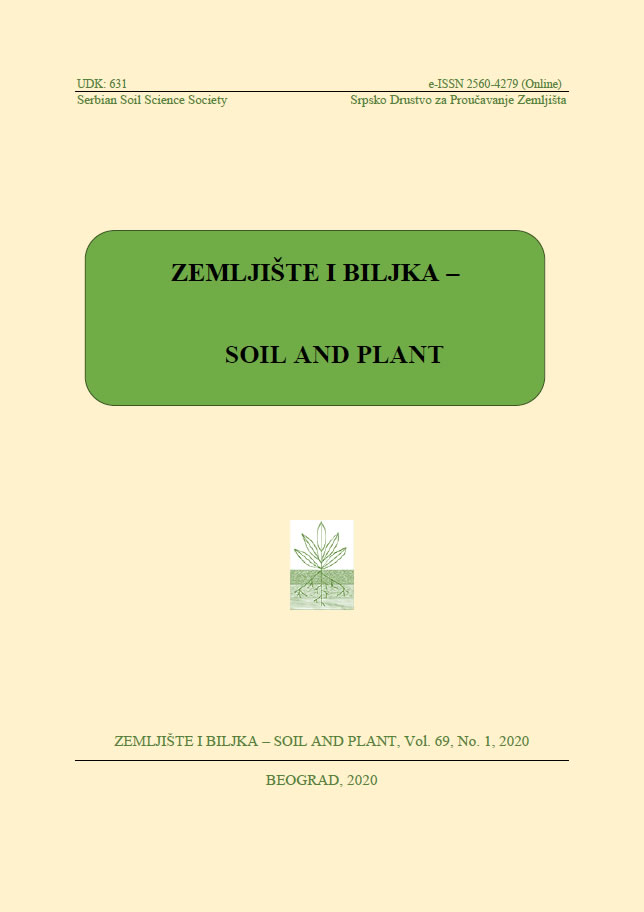 Salt affected soils under cotton-based irrigation agriculture in southern Kazakhstan
Samat Tanirbergenov, Elmira Saljnikov, Beibut Suleimenov, Abdulla Saparov, Dragan Cakmak, pp. 1-14, DOI 10.5937/ZemBilj2002001T
Calculation of maize evapotranspiration using evaporation and reference evapotranspiration methods
Borivoj Pejić, Ksenija Mačkić, Ivana Bajić, Vladimir Sikora, Dejan Simić, Milena Jančić-Tovjanin, Boško Gajić, pp. 15-25, DOI 10.5937/ZemBilj2002015P
Characteristics of the qualitative composition of soil organic metter: problems and solutions
Aleхander Popov, Georgy Kholostov, Ekaterina Sazanova, Julia Simonova, Ksenia Tsivka, pp. 26-37, DOI 10.5937/ZemBilj2002027P
Effects of ionizing radiation of seeds on the initial growth of barley, determination of the frequency and spectrum of mutational variability in M1 morphological properties
Laura Tokhetova, Bibigul Baizhanova, Raushan Nurymova, Danabek Nurzhanov, Nurali Nurgaliev, pp. 38-53, DOI 10.5937/ZemBilj2002039T
Impact of climatic factors on growth and development of Cichorium Endivia in greenhouse in Leningrad region, Russia
Tatiana A. Lavrishcheva, Anton V. Lavrishchev, Andrey V. Litvinovich, pp. 54-67, DOI 10.5937/ZemBilj2002055L
Effect of liming of sod-podzolic soils with by-products of steel production on soil acidity and composition of wash water (column experiments)
Anton V. Lavrishchev, Andrey V. Litvinovich, Olga Yu. Pavlova, Vladimir M. Bure, pp. 68-81, DOI 10.5937/ZemBilj2002068L
Sadržaj labilne organske materije černozema u sistemu zaoravanja međuuseva i naknadne setve jarih useva
Bojan Vojnov, Srđan Šeremešić, Branko Ćupina, Đorđe Krstić, Svetlana Vujić, Milorad Živanov, Stefan Pavlović, pp. 82-94, DOI 10.5937/ZemBilj2002082V
Zemljiste i Biljka – Soil and Plant, Vol. 70, 2021
No. 1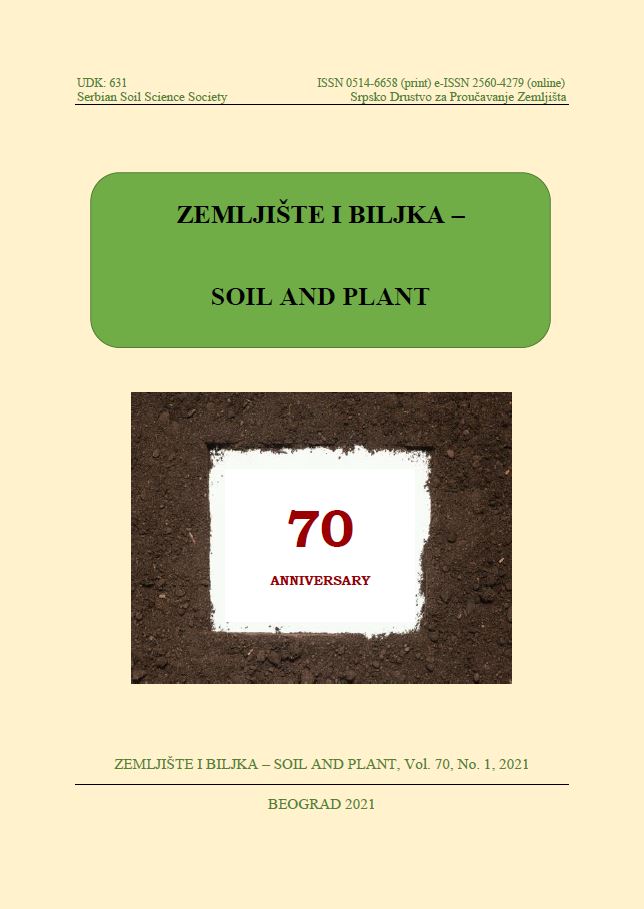 In memorian dr Gligorije Antonović
Maize irrigation requirement on Zemun chernozem in the last half of the century
Gordana Matović, Vesna Počuča, Enika Gregorić, pp. 1-12, doi:10.5937/ZemBilj2101001M
Chemical properties of long-term irrigated Fluvisols of the Beli Drim river valley in the Klina region (Serbia)
Miodrag Tolimir, Branka Kresović, Borivoj Pejić, Katarina Gajić, Angelina Tapanarova, Zorica Sredojević, Boško Gajić, pp. 13-26, doi:10.5937/ZemBilj2101013T
Soil quality of the tea and apple-growing sites in Mindat District, Chin state, Myanmar: A preliminary study
Yaung Kwee, Khin Maw Maw Soe, pp. 27-40, doi:10.5937/ZemBilj2101027K
Application of two measures of adaptation to climate change for assessment on the yield of wheat, corn and sunflower by the aquacrop model
Ružica Stričević, Mirjam Vujadinović Mandić, Nevenka Djurović, Aleksa Lipovac, pp. 41-59, doi:10.5937/ZemBilj2101041S
Properties and groundwater level of humogley soil of southern Bačka
Saša Pekeč, Marina Milović, Velisav Karaklić, pp. 60-67, doi:10.5937/ZemBilj2101060P
Perspectives for cultivation of diversified crops in a rice (Oryza sativa L.)-based crop rotation in the Kyzylorda region, Kazakhstan
Tokhetova Laura, Baizhanova Bibigu, Baykenzhieva Ainur, Kultasov Bekzat, Tihomir Predić, pp. 68-85, doi:10.5937/ZemBilj2101068T
Screening of new sources of Hordeum vulgare genes for adaptive breeding in Aral Sea basin, Kazakhstan, for diversification of agriculture
Laura Tokhetova, Bibigul Baizhanova, Raushan Nurymova, Gulmira Akhmedova, Renata Akzhunis, Tatjana Cvijanović, pp. 86-101, doi:10.5937/ZemBilj2101086T
Soil organic carbon stocks in relation to the altitude in Serbia
Dragana Vidojević, Maja Manojlović, Aleksandar Đorđević, Radovan Savić, Ljiljana Nešić, Božidar Đokić pp. 102-116, doi:10.5937/ZemBilj2101102V
Mapping environmental and climate variations by GMT: a case of Zambia, Central Africa
Polina Lemenkova, pp. 117-136, doi:10.5937/ZemBilj2101117L